Sharp EIT Solutions extends Partnership with the South Sydney Rabbitohs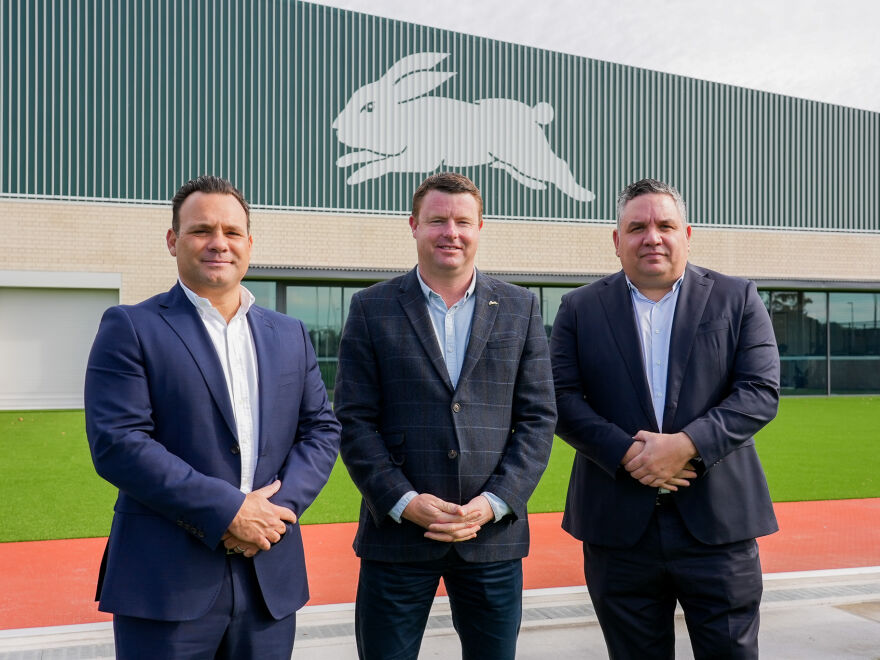 In a move that solidifies our successful collaboration, Sharp EIT Solutions has announced the two-year extension to our South Sydney Rabbitohs partnership that already spans five years.
As part of our renewed partnership, Sharp EIT Solutions will continue to provide cutting-edge technology solutions, including digital screens and multi-function devices, for the Rabbitoh's new state of the art training facility.
Since the inception of their partnership in 2018, Sharp EIT Solutions has been committed to supporting the Rabbitohs in their pursuit of excellence. We have shared values of innovation, performance and continuous improvement, that have been the driving force behind the successful collaboration.
One of the key aspects of this partnership has been Sharp EIT Solution's involvement and provision of over 50 digital screen solutions and projectors throughout the Rabbitoh's new training facility. These screens have been placed in various areas, such as meeting rooms, coaching offices, player lounges and gyms to facilitate efficient communication and provide valuable visual resources.
Additionally, Sharp EIT Solutions will continue to supply multifunction devices that streamline various administrative tasks within the training facility. The devices enable efficient document management, including printing, scanning, and copying capabilities, making administrative processes more streamlined and time effective.
#"We are thrilled to extend our partnership with the South Sydney Rabbitohs. We are proud to support their pursuit of excellence and look forward to achieving great success together".
Sharp EIT Solutions Managing Director Mario Bernatovic said.
"It has been a privilege to work with the Rabbitohs over the past five years, getting to know the sponsors and supporting businesses alike, I look forward to another fruitful two terms." Sharp EIT Solutions Sales Manager, Steve Psaila said.

As the Rabbitohs embark on the next phase of their journey, the extended partnership with Sharp EIT Solutions ensures that they will have access to world-class technology, enabling them to push boundaries and achieve new heights in their performance. The collaboration demonstrates the power of innovation in sports and solidifies the commitment of both organisations to deliver excellence on and off the field.
#Rabbitohs Competition
ENTER TO WIN FOR YOUR BUSINESS
WIN 4 x Corporate tickets to Round 27 Rabbitohs vs Roosters Sep 1, Accor Stadium
TERMS AND CONDITIONS: SHARP EIT Solutions (Sharp EIT) WIN for your Business 4 x Corporate tickets to Round 27 Rabbitohs vs Roosters.
In order to enter the competition, you need to be a business owner or decision maker of a business and be over 18yrs of age.
To enter the SHARP Extensive IT (EIT) WIN for your Business 4 x Corporate tickets to Round 27 Rabbitohs vs Roosters fill out and submit a competition entry form between 11am, July 3 2023 , and close date 11.59pm 11th of August 2023.
There will be one (1) first prize winner drawn at the end of the Promotion Period, totalling one (1) prize winner.
The prize winner will receive a WIN for your Business 4 x Corporate tickets to Round 27 Rabbitohs vs Rooster, Sep 1 at Accor Stadium
You must be an Australian Resident to enter and delivery must be within Australia.
Winners will be announced on Sharp EIT Solutions website and will be contacted personally by Sharp EIT Solutions. See full terms and conditions of the competition below.
Full Terms and Conditions of Entry:
The "Entry Details" and any other information provided on how to enter the Competition form part of these Conditions of Entry. Your entry into the Competition is deemed acceptance of these Conditions of Entry.
The promoter of the Competition is Sharp EIT Solutions of 2/2 Julius Avenue North Ryde 2113 ABN 63 150 079 262 (Promoter).
To enter the SHARP EIT WIN for your Business 4 x Corporate tickets to Round 27 Rabbitohs vs Roosters, Sep 1. Fill out and submit the competition entry form between 11am, July 3 2023 and close date 11.59pm 11th of August 2023
Late, lost, or misdirected entries due to trade disruptions, human error, or for any other reason. Incomplete, illegible, or incomprehensible entries will be deemed invalid.
How to enter: During the Promotion Period, access an entry form to the Competition on and complete the entry form with the required details as stated on the entry form and submit your form as directed. By correctly submitting your form without error, you will be placed into a random draw to win the Prize.
In order to be eligible: Entries must be received Promoter during the Promotion Period. Entry forms which are not received within the Promotion Period are ineligible to win the Prize and will be automatically disqualified. Entries must be submitted in accordance with these Conditions of Entry.
Only one (1) entry per person is permitted. Directors, management, and employees at the Promoter and their immediate families, and associated companies, consultants, suppliers, and agencies associated with this promotion, are not eligible to enter the Competition.
One prize winner will be drawn at the end of the Promotion Period totalling one (1) Prize winner. The winner will be announced via the Promoter's website (and will be published for at least 28 days).
The prize winner will WIN for your Business 4 x Corporate tickets to Round 27 Rabbitohs vs Roosters, Sep 1 at Accor Stadium.
The Prize consists of 4 x Corporate tickets to Round 27 Rabbitohs vs Roosters, Sep 1 at Accor Stadium.
If the Winner can not attend the game on Sep 1, the prize will be forfeited and redrawn.
The Prize is not transferrable and cannot be redeemed for cash. In the event that the Prize, or any part of it, is unavailable, the Promoter reserves the right to substitute a prize of equal or greater value. Prize values are the recommended retail value at the time of publication of these Conditions of Entry. No responsibility is accepted for any variation in the value of the Prize. Any incidental costs relating to the Prize are the responsibility of the Prize winners. .
The competition is a game of chance. To win the prize, entrants must enter their details into the entry form. A random draw will take place on judgement day.
The prize judgment will take place at the Promoters Address: 2/2 Julius Avenue North Ryde, 2113 NSW on the 14th of August at 10am. The Promoter's decision in relation to any aspect of the Competition is final and binding on every entrant. No correspondence will be entered into.
The Promoter reserves the right to announce or publish the winner's names for publicity purposes. The winners will be published the Promoter's websites and details may also be published on the Promoter's social media accounts. The winner acknowledges and consents their name may be used for advertising or marketing purposes by the Promoter. The Promoter may send you future promotions of their goods or services. The winner's personal information may be disclosed to State/Territory regulatory departments and published as required by the relevant legislation regulating trade promotions. If an entrant is under the age of 18, the prize must be claimed by a parent or guardian.
The Promoter reserves the right to verify the validity of entries and entrants (including proof of identity, age, and residency). The Promoter may, in its sole discretion, disqualify any entry which in the opinion of the Promoter objectionable content, profanity, potentially insulting, inflammatory or defamatory statements, disqualify any entrant who tampers with the entry process, who submits an entry that is not in accordance with these Conditions of Entry or who has, in the Promoter's opinion, engaged in conduct in entering the Competition which is fraudulent, misleading, deceptive or generally damaging to the goodwill or reputation the Promoter. In the event that a winner is disqualified and has been awarded a Prize, that entrant may be required to return the Prize or reimburse the value of the Prize to the Sponsor.
If the promoter can not get a hold of the Prize winner by the the 18th of August prize will be redrawn on the 21st of August of July at 2pm.
The tickets along with details of the prize shall be sent via email to the winners email address.
The personal information collected as part of the entry is collected to enable identification of the winners and for marketing and promotional purposes. If you would like details of the personal information held by the Promoter about you, or if you would like such information corrected, you can write to the Promoter at the address stated above or at info@sharpeit.com.au
If for any reason any aspect of the Competition is not capable of running as planned, including but not limited to trade interruption or any cause beyond the control of the Promoter, the Promoter may in its sole discretion cancel, terminate, modify, or suspend the Competition.
This Competition is governed by the laws of each State individually. All entrants submit to the jurisdiction of the courts of each State