Sharp EIT Solutions partners with Gold Coast Titans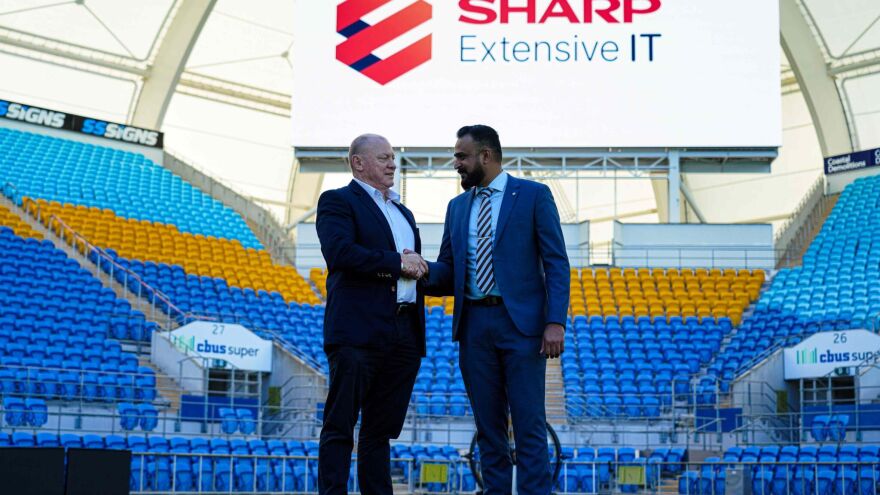 Today, Sharp EIT Solutions is thrilled to announce partnership with the Gold Coast Titans, one of Queensland's most iconic sports organizations, as the business continues to strengthen its presence in QLD.
This collaboration signifies a significant milestone for both companies as they join forces to revolutionize the technological landscape of the sports industry.
Sharp EIT Solutions, a leading provider of cutting-edge IT solutions, brings its expertise in system integration, network infrastructure, office solutions and digital screen technology to the table. With a proven track record of empowering businesses across various sectors to thrive in the digital age, Sharp EIT Solutions is well-equipped to support The Titans in their pursuit of excellence.
Managing Director of Sharp EIT Solutions, Mario Bernatovic said;
"We extend our gratitude to The Titans for entrusting Sharp EIT Solutions as their Official Technology provider and sponsoring partner. We look forward to rolling out our IT technology which will assist the club off field and enhance their capabilities, streamline processes, and drive growth.
This partnership is a testament to shared values, vision, and commitment to local businesses and the community that both companies possess. We look forward to connecting with businesses through the Titans in Business event. " Bernatovic said.
Titans CEO Steve Mitchell says he's excited to welcome the Sharp EIT Solutions team to the club.
#"Mario and his team at Sharp EIT Solutions have proved themselves as industry leaders in this space and we are excited to partner with them for this season and beyond."
Titans CEO Steve Mitchell
Backed by 20+ years industry experience, Sharp EIT Solutions is manned by a team of highly skilled trade specialists with a solid community and partnership focus.

Sharp EIT Solutions provides access to the latest office equipment, IT services, and technology solutions including office printers, laptops, managed IT services, telephony solutions as well as digital and interactive display solutions Australia wide.